The Project was first identified in 1993 as part of the Small Hydropower Master Plan. The initial capacity of the Project was 2.8 MW which was later optimized at 20 MW. BPC acquired this project from LEDCO in December 27, 2006. A Special Purpose Vehicle (SPV), Nyadi Hydropower Ltd has been incorporated for development of the project.
Currently, with further investigation, The Project has been optimized at 30 MW for which a new feasibility study has been carried out. Initial Environmental Examination (IEE) has been completed and approved by the government. The Power Purchase Agreement (PPA) and Connection Agreement with Nepal Electricity Authority (NEA) has been concluded in 2015. Out of 11 km length, track opening of 9 km has been completed and a bridge over Marsyangdi river has been constructed. Major construction of the Project has been planned to start from the mid 2016 and expected to be commissioned at the end of 2019.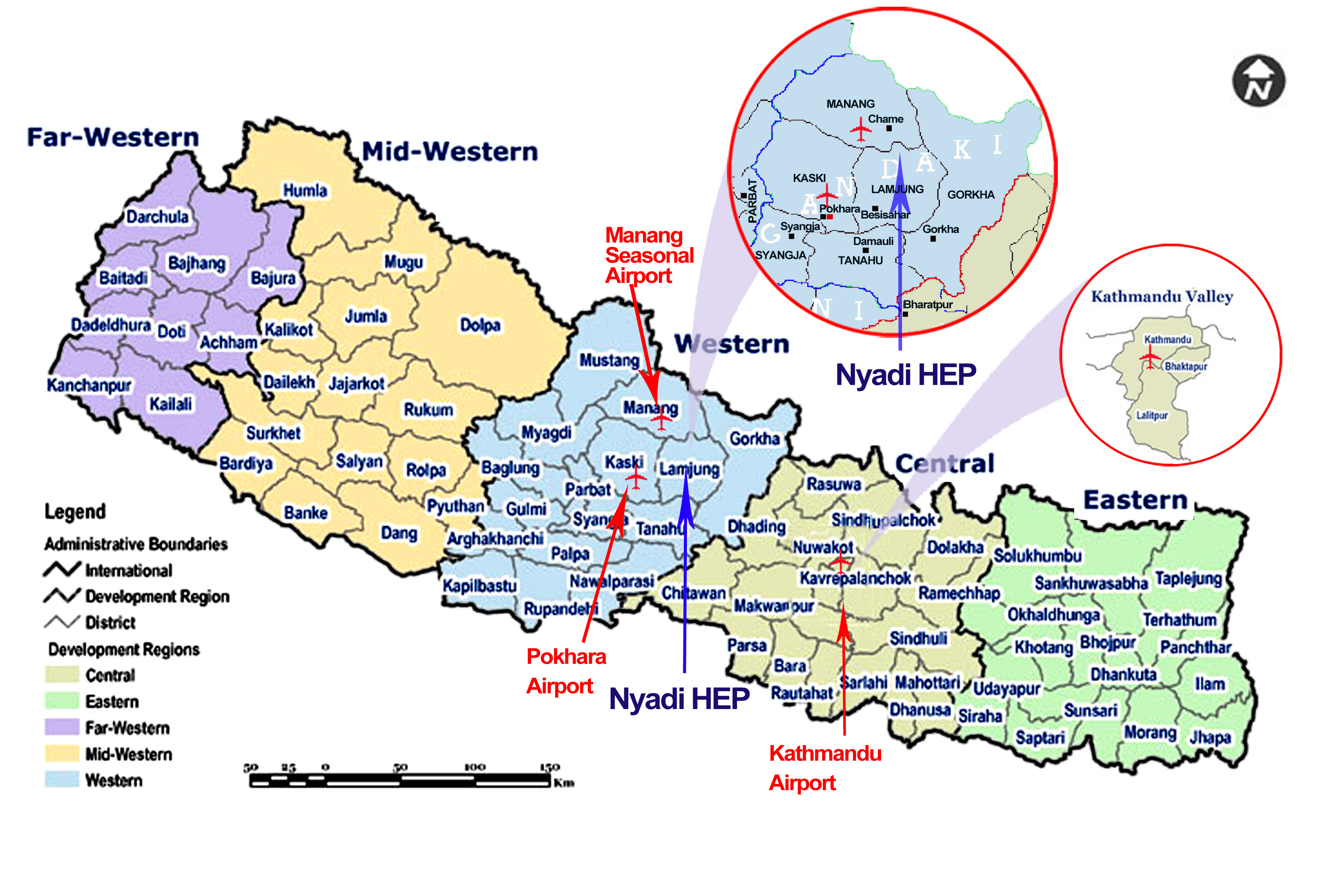 Fact Sheet
Project Type
Run-of River
Project Location
Head Work site - Lamjung district, Bahundada VDC-2, Naiche village
Power House site- Lamjung district, Bahundada VDC-7, Thulobeshi village
Installed Capacity
30 MW
Annual Energy Generation
168.5 GWh
Design Discharge
11.08 Cumec
Gross Head
347.5 m
Head Race Tunnel
4000 m
Power Evacuation
Inter-connection will be made to the Marsyangdi Corridor Transmission line planned by NEA at Khudi Hub.
Access to site
Power house site is at Thulobeshi village which is about 6 km away from Thakanbeshi point at Besisahar-Manang Highway.
Headworks Site is further 5 km away from power house. The site can be reached within 6 hours drive from Kathmandu or Birgunj.
Birganj (Raxaul) or Bhairahawa (Sunauli) is the nearest border town to India having broad gauge railway link.
Contact Details
Nyadi Hydropower Limited
BPC Complex
Ganga Devi Marg – 313, Buddhanagar,
P.O.Box: 26040, Kathmandu
Tel: +977-1-4785736, 4781776, 4785295
Fax: +977-1-4780994
Email: This email address is being protected from spambots. You need JavaScript enabled to view it.