Andhikhola plant is under operation since 1991 with an installed capacity of 5.1 MW. The power plant had 3 pelton turbines of 1.7 MW each. The project was built under the aegis of UMN with old used equipments from Norway. The Andhikhola Project is a basin transfer project wherein water from Andhikhola river is drawn from a point not so far from Andhikhola – Kaligandaki confluence and after generation of power is discharged into Kaligandaki river.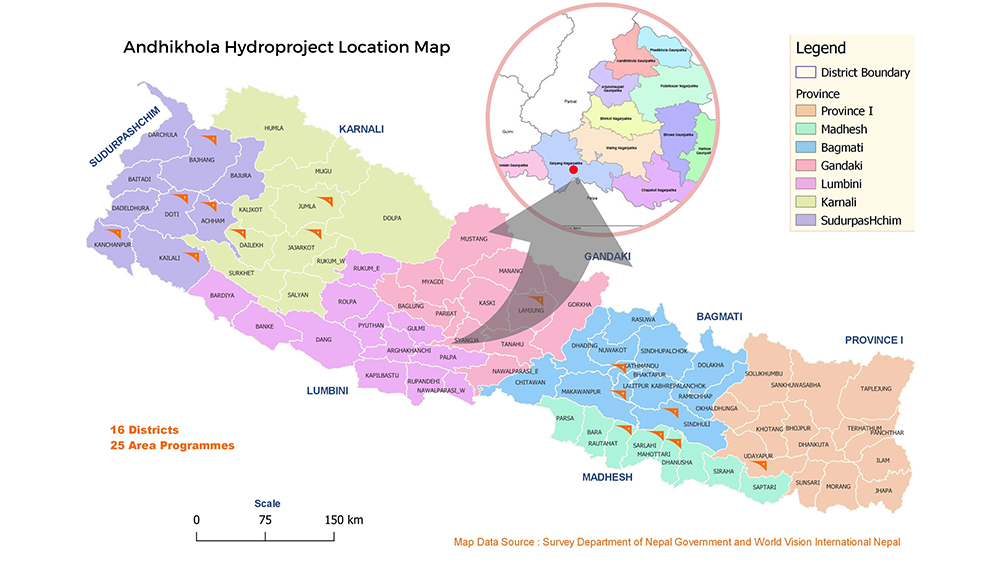 This is a unique multipurpose project in Nepal; water is tapped off before the penstock and is provided for agriculture, which irrigates 309 hectares of land in Tulsi Bhanjyang area of Syangja District and Asardi area of Palpa District.
The residual life of the electro-mechanical equipment of 5.1 MW plant being very short, BPC has upgraded the project to 9.4 MW. Additional water is also available for irrigation increasing the total irrigated area to 599 hectare.
The upgradation works started in 2067 and completed construction at the end of 2072. The commercial operation date (COD) has been achieved in 22nd Chaitra 2072. After the upgradation, addition 4.3 MW power and 30 GWh of annual energy generation has been added to the Integrated Nepal Power System (INPS). The power is being evacuated by 132/33 kV substation newly built by NEA at Rangkhola, Syangja. The project was financed by International Financing Corporation (IFC) and Mega Bank Limited, Nepal.
Fact Sheet
| | |
| --- | --- |
| Location | Galyang, Syangja District, Province No. 4 (Gandaki Pradesh) |
| Type | Run-of-River |
| Capacity | 9.4 MW |
| Head | 248.8 M |
| Annual Energy Generation | 68.38 GWh |
| Interconnection Point | 132 kV Syangja Substation at Rang Khola |
| CoD | April 2015 |