Kabeli-A Hydroelectric Project (KAHEP) is a peaking run of the river project located in Panchthar and Taplejung Districts. Kabeli Energy Limited (KEL) has undertaken KAHEP from the GoN as per the Project Development Agreement (PDA). The Company has 26% direct and 27.3% indirect ownership stake in KEL. Management of KEL has been led by the strategic partner InfraCo Asia. The debt financing of the project was by WB Bank on-lent through HIDCL and IFC. The main construction works of the project was started on 23rd March, 2017. KEL has constructed 24 km access road to connect the project sites with Mechi Highway. All required lands for project construction have been acquired, Contractor's camp facilities have been built; access tunnel and 1 km headrace tunnel out of 4.5 km have been excavated and prepared for the construction of dam and penstocks. The EPC contractor was unable to comply with the defined construction standards, environmental and social standards and could not achieve planned progress. As a result, KEL terminated the EPC contract agreement in April 2019 following the recommendations of Owners and Lender's Engineer. KEL recovered Advance Payment Guarantee (APG) and settled Performance Guarantee (PG). The timeline for WB loan drawdown was expired in December 2019. All physical works are under suspension now since suspension of World Bank loan. As a result, RCOD under the PPA was expired without project commissioning. This expiry of RCOD is not only because of KEL, but also due to severe delay in required decisions from the Government authorities in channelizing the WB loan, granting timely approvals and requesting WB for loan extension; and in fulfilling stringent covenants of WB and IFC for loan disbursement. GoN's focus on the Tamor Storage Project seems to have diverted attention from KAHEP. This Storage Project has potential impacts on KAHEP and line ministries need to take a firm decision on the KAHEP at the earliest.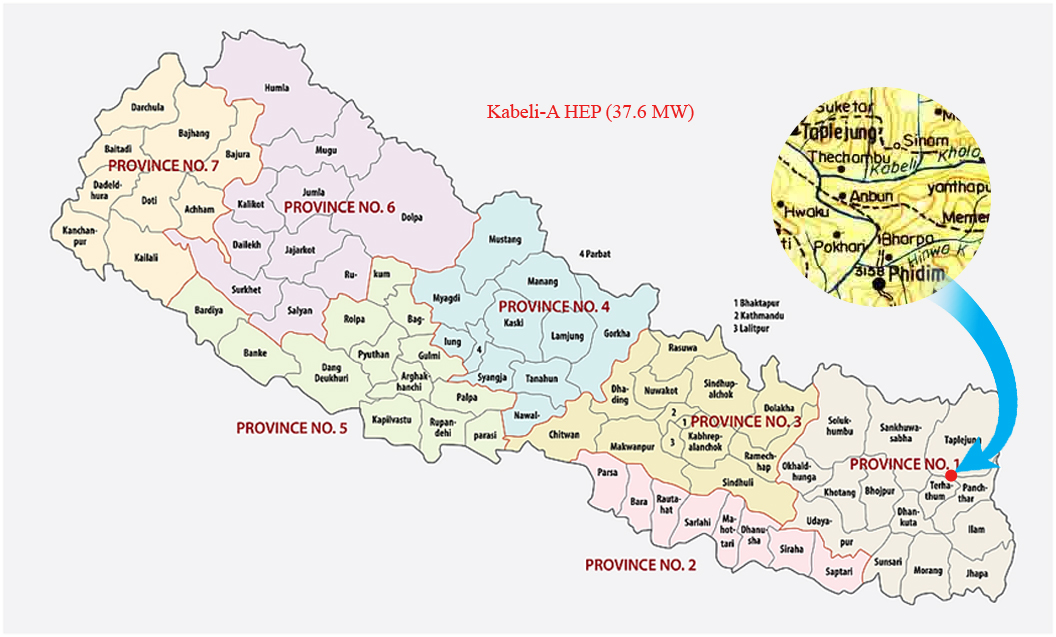 KEL has formulated recovery plan to resume construction works. In order to proceed with the recovery plan, a reasonable RCOD extension is required to complete remaining construction works and avert delay damages that could be substantial. KEL approached MoEWRI for extension of RCOD on the grounds of delays attributed to GoN decisions. GoN formed a special committee last year at MoEWRI to review and recommend necessary measures for RCOD extension and revision of PPA. Committee has recommended some measures to extend RCOD and revise PPA. Despite of regular follow ups at different levels of government, the decision has been delayed impacting the project's viability.
Fact Sheet
Project Location

Head Work site - Panchthar district, Hilihang Rural Municipality -1, Dhuseni
Power House site - Panchthar district, Hilihang Rural Municipality -2, Pinasi

Project Type

Daily peaking Run-of River

Installed Capacity

37.6 MW

Annual energy generation

205.15 GWh

Design discharge

37.73 Cumec at Q40

Gross Head

116.8 m

Head Race Tunnel

4327 m

Power Evacuation

Inter-connection at Kabeli Power House to Kabeli Corridor 132 kV transmission line constructed by NEA

Access to site

Power house site is 16 km away from Mechi Highway which is about 45 km away from Phidim (District HQ). Headwork site is at about 7.5 km away from Mechi Highway which is about 55 km away from Phidim (District HQ)
Kakadbhitta is the nearest border town to India and Bhadrapur is the nearest town for Aeroplane service.
Contact Details
Kabeli Energy Limited
BPC Complex
Ganga Devi Marg – 313, Buddhanagar, Kathmandu
Tel: +977-1-4795735,
Fax: +977-1-4790994
Email: This email address is being protected from spambots. You need JavaScript enabled to view it.
Website: http://www.kel.com.np