BPC received a survey license of Mugu Karnali Hydropower Project (MKHPP) in 2074 at the estimated project capacity of 160 MW. The project license boundary lies in Soru Rural Municipality of Mugu District and Adanchuli Rural Municipality of Humla District of Karnali Pradesh. The nearest road head to this project is a gravel road from Gamgadhi, Mugu, Nepal. Presently, the project area can be accessed by foot-trails and mule tracks. As of now, motorable road is being constructed along left bank of Mugu Karnali River, which is used as access road for the project. Gamgadhi, Mugu can be accessed by motorable gravel road of 316 km from Birendranagar, Surkhet.
The detail feasibility and EIA study are ongoing. Topographical survey and geological mapping have been completed. The hydrological data collection by means of direct flow measurement and gauge reading is ongoing. Likewise, sediment sample collection and analysis is also ongoing.
License boundary of the Project has overlapped with the license boundary of Mugu Karnali Storage Hydropower Project owned by Vidhyut Utpadan Company Limited (VUCL). The survey license to VUCL was issued by overlapping the area with a view to carry out feasibility study by BPC and VUCL. The salient features given below are based on the most feasible option as per the preliminary findings of ongoing feasibility study.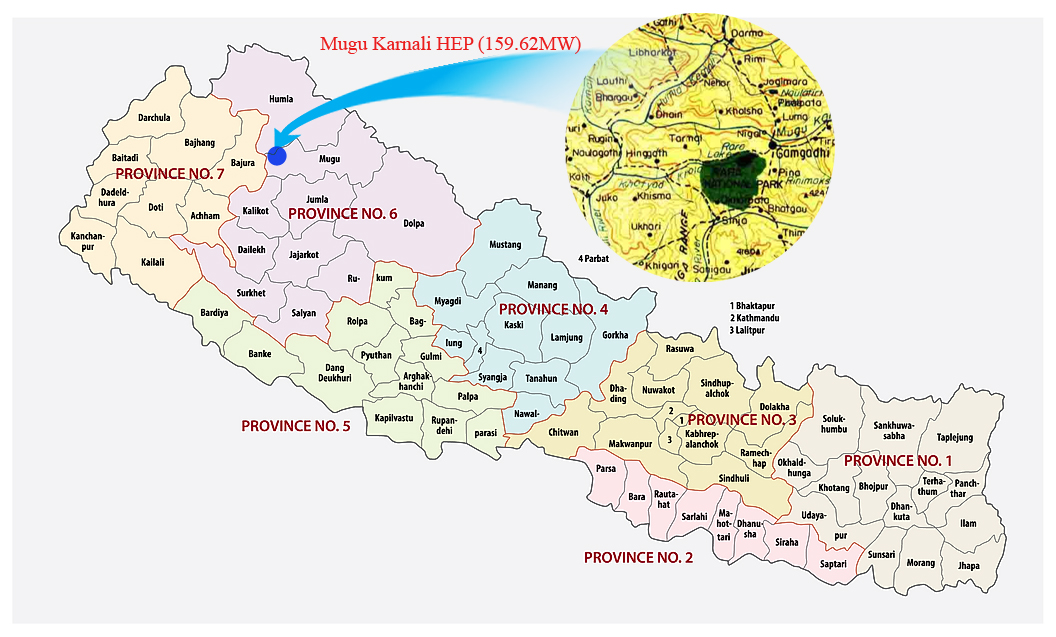 Fact Sheet
| | |
| --- | --- |
| Project Location | Soru Rural Municipality of Mugu District and Adanchuli Rural Municipality of Humla District, Karnali Pradesh, Nepal |
| Project Type | Peaking Run-of River |
| Installed Capacity | 176.6 MW |
| Annual Energy Generation | 1028 GWh |
| Design Discharge | 81.25 m3 /s at at 40% PoE |
| Gross Head | 260 m |
| Head Race Tunnel | 14 km |
| Power Evacuation | Proposed Mugu-Karnali Hub |